Summer is Here!
Are you ready to have family and friends over?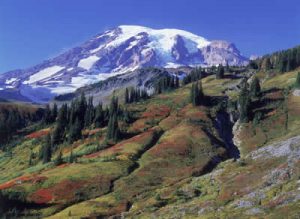 Greetings!
In this newsletter, you can find good tips on:
How to clean your outdoor furniture so that you are ready for those impromptu barbeques. Using your cutting board goes hand in hand with those barbeques. Keep your equipment in top shape and make sure you don't cause any undue intestinal distress!
I'm not sure about you, but I know that I receive more out of town guests during the summer. Maybe they know about the little secret of how gorgeous our town is when the sun shines! We can be in the mountains or by salt water in a matter of a couple of hours..Depending on the day's traffic, of course. 😉 With that in mind, here are a few pointers on how to select the right sleeper sofa for your needs, tastes and budget.
Even though it is summer, and everything is brighter, I really like to use touches of black for accent. See below for a video to understand what I mean!
Also below, is an example of the barn door trend and someone I know that makes them to your specific needs.
Lastly, a bit of humor at the end to make you laugh!
Make this summer your best ever!
Enjoy!
Cara
---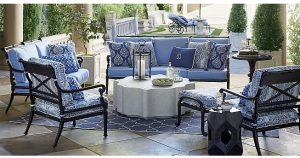 Here are some great tips to clean your outdoor furniture in time to enjoy it all summer long!
While these fabrics are engineered to be pretty hardy, they are not bullet proof! Here are some tips to protect your investment in your patio furniture.
Materials used outdoors are designed to not fade as much as standard fabrics, be able to resist stains, moisture and mildew..
There are two types of fabrics used most often. One is solution dyed which is less prone to facing and can handle stronger type cleaners. Then there is piece dyed fabrics that needs a more gentle approach to clean.
To determine which one you have, check both sides of your cushions. If they are pretty much identical, you probably have solution dyed.
I would recommend a deep cleaning at the beginning of the summer.
Removable covers can sometimes be washed in cold water with mild soap and no bleach in your washing machine. If not, try submerging the fabric in a mixture of 1/2 c. gentle liquid soap such as Ivory, with a gallon of lukewarm water, NOT HOT.
After swishing gently, rinse and allow to air dry.
For solution-dyed fabrics, try mixing 2 Tablespoons of oxy clean with a gallon of warm water. Scrub with a soft brush after wetting the area. Again, rinse and allow to air dry.
To keep these fabrics maintained throughout the summer, weekly brush off the cushions and wipe all spills and stains quickly with a wet cloth soaked in a mild solution.
Some cushions may have been coated with a water-repellent, so redo this using a fabric protector about once a year. Check the label to make sure it is safe to use with your type of fabrics.
Taking care of your outdoor furniture as well as your indoor furniture ensures it to last for many seasons to come.
---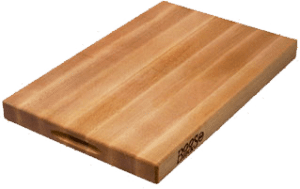 Are your cutting boards making you sick?
Here's how to take care of them and take care of your innards at the same time!
While wooden cutting boards are beautiful, they do require some maintenance so that they stay clean for you to use for a long time.
Wood cutting boards must be wiped using a mild soap and warm water to remove particles and meat juices every time you use them.
Your board should also be sanitized from time to time using a spray bottle filled with hydrogen peroxide. Spray the
Cleaning and sanitizing wood cutting boards. Wood boards should be wiped with a cloth, a mild soap (such as castile soap) and warm water to remove meat juices and other food debris.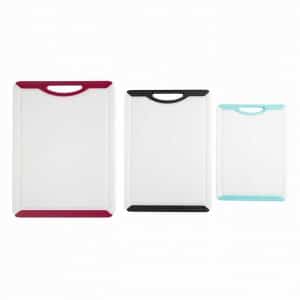 To sanitize the board, fill a spray bottle with ordinary hydrogen peroxide (3 percent). Then spray the wood with a light mist and let it sit overnight. The hydrogen peroxide will kill the bacteria. In the morning, rinse the cutting board under hot water and dry it, and it's ready to use again.
The composite type of cutting boards, can just go in the dishwasher on the bottom rack and washed using your hot water setting. They can also be cleaned in your sink and scrubbed with a sponge and air-dried.
Again, you can sanitize them with hydrogen peroxide using the same routine as the wooden cutting boards.
I use different colored ones for different jobs. Select a color and use that one exclusively for meats. This helps from any cross contamination between foods.
---
BLACK, THE NEW NEUTRAL!
I love using black in small doses as an accent!
Watch this video to see what I mean and to try your hand at using this color in your home.
---
Just a little fun photo to share with you.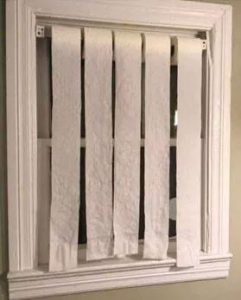 For those who find selecting the right window treatment a challenge…
Redneck mini blinds, no need to clean or dust them. Just tear off and throw away! 😉
---
Need A Focal Point In Your Room or Just A Way To Close Things Off….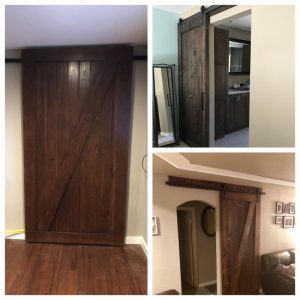 My son recently started a barn door business and has created many doors for eastern and western Washington residents. These doors are handmade for the customer which exceeds the quality of those at our local hardware stores. Custom or standard sizes are available and you have the choice if you would like it finished with stain of choice and/or having all mounting hardware included.
To learn more, contact me and we can talk about size and pricing.
---
Would you be so kind as to take a minute to review me on Houzz.com?
Here's a link to my business profile:
Cara's Interiors On Houzz
As a home remodeling professional and interior designer, my business relies on recommendations from my clients. I would appreciate it if you would write a brief review for me on Houzz.com. Feel free to upload a photo of your finished space with comments on how working with me made your project special.
You can review me here:
Review Me Here
Thanks in advance and let me know if you have any questions. When you post your review, let me know and I will mail you something to show my appreciation of the time and care you spent doing this.