New Year 2020

In The Year 2020, What Are Your Home Improvement Goals?
It's 2020 already! Can you believe it?
As for me, I write out new goals and resolutions in January for both my work and myself. Then I keep a copy of it to see how I did enacting them.
There's always something techie on there to make me stretch just a bit outside my comfort zone, usually a vacation thought in there too and, most definitely, a home improvement goal.
What's on your list? Don't have one yet? Make that your January goal to sit down and write a doable list. In this newsletter, there will be some ideas to put on your list. Not a list writer, just thinking about them may be enough for you.
My wish for you is a safe, healthy, profitable and even better new year than last year!
Happy New Year!
Our homes can nourish us or deplete us, inspire us or weigh us down. Life is precious. What you surround yourself with does matter.
-Denise Frakes
---
Is Taming Clutter On Your List?
Here's a great short video to watch on how you can eliminate clutter and feel more organized without taking a lot of time to implement it or spending too much money.
I know going through my house and eliminating quite a few things that I just thought I had to hold onto is on my list for clutter reduction.
---
If this is how things turn out for you when you try to do things yourself, feel free to contact me and I will gladly have someone do this one little thing for you…
---
How To Kid Proof Your Home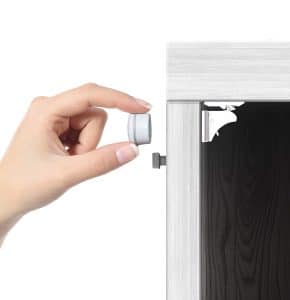 Whether you are about to have your own children or now you have become a grandparent, here are some suggestions on how to best safe proof your home.
In the kitchen, make sure all chemicals, plastic bags and glassware are behind locked doors. Also, anything sharp such as scissors, knives etc. are in higher cabinets or locked away.
In the bathroom, babies can drown in 1″ of water so never leave them unattended. Also, make sure all medications and are behind locked doors. Staircases need baby gates.
Go around the house and look for furniture that can easily be climbed on such as dressers. These can topple over quickly when a child starts to use the drawers like ladder rungs. Attach these pieces of furniture to the wall. This is good for earthquakes too!
Watch cords for blinds and make sure you have cord cleats to wind those cords up so children don't strangle themselves. When ordering new window blinds, try getting a different lift system that eliminates these cords. Don't forget the garage door. Make sure it has a sensor on it so it stops and goes back up when something or someone is detected.
---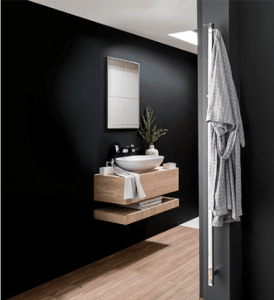 What's new for the bathroom you ask?
Many clients did not follow through with their desire for a towel warmer for many reasons. One of them was how much wall space it took up.
Take a look at the new appliance that's out now!
---
Would you be so kind as to take a minute to review me on Houzz.com?
Here's a link to my business profile:
Cara's Interiors On Houzz
As a home remodeling professional and interior designer, my business relies on recommendations from my clients. I would appreciate it if you would write a brief review for me on Houzz.com. Feel free to upload a photo of your finished space with comments on how working with me made your project special.
You can review me here:
Review Me Here
Thanks in advance and let me know if you have any questions. When you post your review, let me know and I will mail you something to show my appreciation of the time and care you spent doing this.