Happy Thanksgiving 2018
What Are You Thankful For?
At this time of the year, so many people and companies say what they are thankful for. When I write that I am thankful for you, I truly mean it. Without you, my company would have no meaning. Without meaning, there would be no point in doing what I do. Your newly remodeled home and the faces I see when we are all done, makes my job such a joy! Without joy, would any of us do what we do everyday? I think not. So, yes, I am thankful that I have you as my favorite client.
---

It's What's Inside That Counts!
Who wouldn't want new cabinets? With all the new inserts you can put into your cabinets to make them work harder and smarter for you, why make it hard on yourself bending and stooping.
You say you just redid your cabinets and didn't put these in? No worries, you can retrofit many of these choices into your existing cabinets.
Many of these organizers work wonderfully in the bathroom also to hold blow dryers, brushes, make up etc.
Want to know more? Drop me a line and we can discuss your options that best suit your needs.
---
Have You Tucked In Your Grill For The Season?
You should never use harsh chemicals on your BBQ during the grilling season such as oven cleaner.
If you are a naturalist, make a solution of 50% water and 50% vinegar. Spray the top and bottom of your grates and wait at least 10 minutes. Then spray just vinegar on some foil and gently scrub your grates. You don't need to rinse this when you are done.
However, some of you may have learned from your parents that you need to use a more aggressive type of cleaner. If so, put some of that cleaner on a rough sponge and rub it into the racks. Wait at least 15 minutes to let the solution do it's job. Then wash the rack. Still not clean, just repeat.
Is this way too much work? Then take the grates off and get the big chunks off and then put it in your dishwasher under the scrub cycle.
One and done!
But to prevent this buildup, turn your BBQ on high heat for about 5 minutes every time before you use it. This will burn off a lot of the residue. Next take a good grill brush with a long handle to prevent yourself from getting burnt and scrub. A moment of prevention will keep your grill nice and clean for the season.
---
Need A Counter Top That Is Tough Enough For Little Boys?
Watch this video!
New Stile Video from msisurfaces on Vimeo.
---
Are You A DIY?
My husband is too on some things, but even he realizes there are things you are just not that good at. At those times, we hire a professional to get a good result. I have great Sub Contractors that I use for just these instances. If you find yourself taking on a job around the house that you don't feel is in your area of expertise, give me a call and I can assist you with this.
---
What's Cara Been Up To?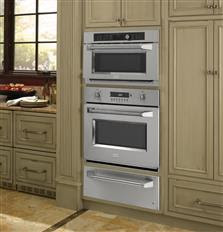 I flew to Chicago for a GE Monogram training and cooking class. During this training, I fell in love with the GE Monogram Advantium Oven. This can be built in or an over the range model. It can speed cook, act as a microwave and a convected oven as well as even keep your food warm! Sorry, it doesn't do laundry too. 😉 Want to know more? I will send you to my dealer!
---
Would you be so kind as to take a minute to review me on Houzz.com?
Here's a link to my business profile:
Cara's Interiors On Houzz
As a home remodeling professional and interior designer, my business relies on recommendations from my clients. I would appreciate it if you would write a brief review for me on Houzz.com. Feel free to upload a photo of your finished space with comments on how working with me made your project special.
You can review me here:
Review Me Here
Thanks in advance and let me know if you have any questions. When you post your review, let me know and I will mail you something to show my appreciation of the time and care you spent doing this.