Fall 2020

What Are You Thankful For?
I just received an email from a friend which had a great saying that I want to share with you. What if you woke up today ONLY with the things you thanked God for yesterday? This made me think long and hard. I know that I complain about the whole Covid crisis and the political arena is driving me crazy, but what was I thankful for yesterday? My whole attitude had to shift. I am now calmer about what is going on because I have in the forefront of my mind all of the good that is going on in my life. Being thankful for what we have is not just in November at the Thanksgiving table. It should be all the time. It's a small change, but worth a try. If it changes your attitude also, let me know.
One of the things I am thankful for is all the people who read my newsletter and send me feedback. Thank you to all of my clients who have shown patience during this trying time as everything is taking three times as long to get done due to the restrictions out there.
Thank you for the people who love me even when I am not at my best. I hope that you will be thankful that you read this newsletter with new products, how to tips and more. Now for the good stuff!
---
With darker days ahead of us, needing more task light in our kitchen is important. There are many ways to accomplish under the cabinet lighting, but the LED tape is the most popular way to do this now. It is important to look at the color temperature to make sure you get the correct lighting result you are hoping for.
---
What to do if you are working from home and the kids are attending school online?
Here are a few good examples on how to make things work for your new lifestyle. The first photo shows how to give each person the space they need to be productive.
The second one shows you a good example of an organized home office and how to place it against a vacant wall.
If you are thinking of a home office or a spot for the kids to do their online learning, give me a call as this is all tailored to your individual needs and budget. Finishes and configurations are up to you.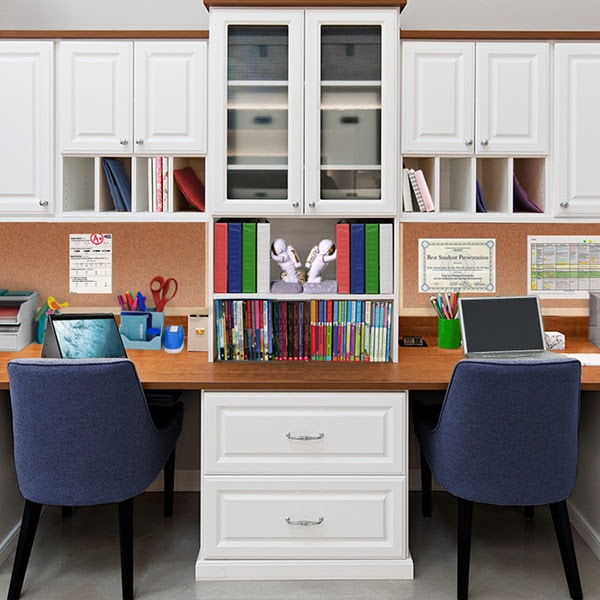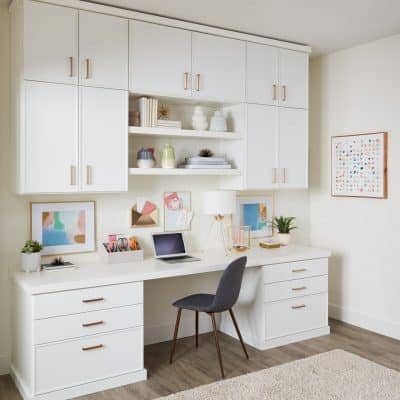 ---
Is It Really Necessary To Hire An Interior Designer?

You should hire an interior designer if you feel you want a unique look for your home that best reflects you and how you live. Each one of us have different expectations of what our home should feel like and how it should function. A designer brings a unique perspective to the table and aids you in clarifying what you really want to do in your home. What do you want your home to look like and do you even know? Everyone uses their kitchen and entertains differently. Your kitchen should live up to your expectations of function and appearance. It is the powerhouse of the home. Also, if you have pets, your home could accommodate them through better design and make caring for them easier for you.
Are Interior Designers worth their fee? You bet! They take your budget and lifestyle into account and recommend the best products customized for your style of living. This keeps you from making costly mistakes. They are also well informed on the newest products out there as well as the latest trends. Some designers, like myself, have a contractor's license so that they can stay with you on the project from beginning to end to ensure you get what you dreamed about.
---
And You Thought All Medicine Cabinets Are Alike…
This medicine chest slides up and has an LED lit border to illuminate your face. It also has lights on the interior to help you find things at night or during the day. Just make sure you don't have vanity lights above this mirror. Recessed lights are best used here.
INSIDE INFORMATION JUST FOR YOU!!
Here's a sneak peak at the colors for 2021 according to Miller Paints.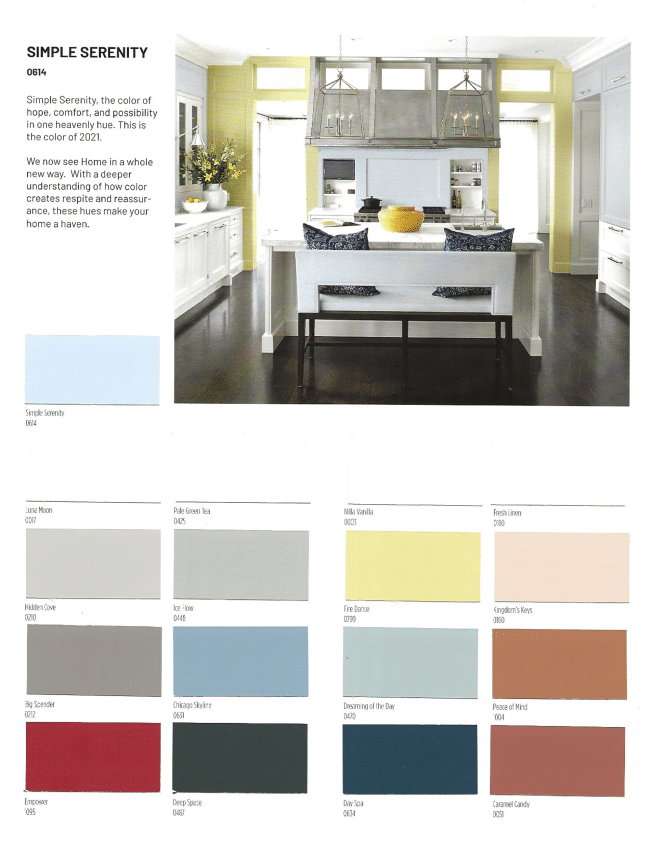 ---
Would you be so kind as to take a minute to review me on Houzz?
Here's a link to my business profile:
Cara's Interiors On Houzz
As a home remodeling professional and interior designer, my business relies on recommendations from my clients. I would appreciate it if you would write a brief review for me on Houzz.com. Feel free to upload a photo of your finished space with comments on how working with me made your project special.
You can review me here:
Review Me Here
Thanks in advance and let me know if you have any questions. When you post your review, let me know and I will mail you something to show my appreciation of the time and care you spent doing this.