Fall 2019

HOW'S YOUR KITCHEN COOKING?
The kitchen… A place to talk in the morning and evening, an area where we bake and cook those special meals, where people gather when we entertain (You would have thought the living room, right?), where homework is done and emails are checked and so much more. This area is a true work horse of the home. Take stock of your kitchen right now…Is it crowded when you cook or people come over and you need a new layout? Is the oven going out and you need to think about replacing your appliances? Are the doors falling off their hinges or the drawers don't close anymore? Whatever the reason, a good kitchen design that works for how you live and stays within your budget is what Cara's Interiors aims to accomplish with every kitchen remodel.
Sometimes, you just don't know where or how to start. Maybe you don't know good quality craftsmen for your cabinetry or good installers for your tile, flooring or light fixtures. There's actually a plan to how a remodel should go and after doing this for over 15 years, Cara's Interiors is outstanding in this area. Don't take my word for it, ask my past clients as I have references that can tell you what it's like to work with me.
While it's too late for a full scale remodel before the holidays, sometimes just a minor one can do the job and it's not too late for that. If it all has to go, put it on your list of priorities to attack January 1st.
I'm just a phone call away.
---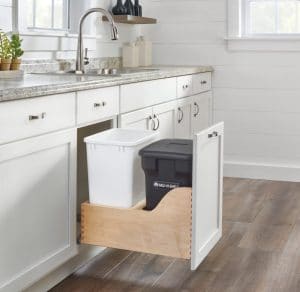 WHAT'S NEW AND IMPROVED?
What does your cabinet under your kitchen sink smell like? Go on, go over there and open it and take a good whiff. That's what I thought.There's something new out that can make it smell so much better next time you open that door in front of company. It's an odor-reducing waste container. I wonder what took them so long to come up with this?
---
Are you a DIY? If So, Watch this!
Many of us like to do a little sweat equity in our remodeling.
Right now Luxury Vinyl Tile (LVT) is really trending as it looks like wood or tile without the upkeep.
It wears really well too if you watch your manufacturers and know what to look for in a good quality LVT or Luxury Vinyl Plank (LVP). This type of flooring is a good choice for a kitchen or bathroom.
Not sure what to look for, let's go shopping together and I can help you choose the right one for you and your budget.
---
Would you be so kind as to take a minute to review me on Houzz.com?
Here's a link to my business profile:
Cara's Interiors On Houzz
As a home remodeling professional and interior designer, my business relies on recommendations from my clients. I would appreciate it if you would write a brief review for me on Houzz.com. Feel free to upload a photo of your finished space with comments on how working with me made your project special.
You can review me here:
Review Me Here
Thanks in advance and let me know if you have any questions. When you post your review, let me know and I will mail you something to show my appreciation of the time and care you spent doing this.